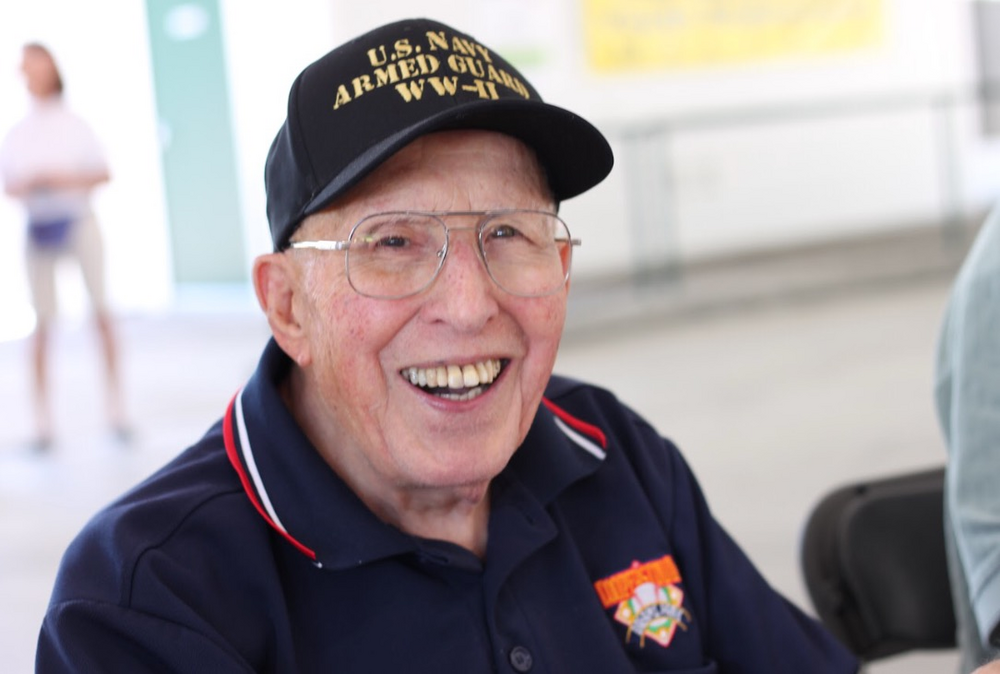 Obituary of Sam Tridente
Sam Tridente, husband, father, grandfather and great grandfather, WW II navy veteran and retired Hoboken, New Jersey Postmaster. Sam, age 97, of Washington, New Jersey passed away on Friday October 7, 2022. He is survived by his loving wife, Marietta, his son, Conrad, and his wife, Jacqueline, his granddaughter Christine and her husband, Mike Fahey, his granddaughter, Linda and her husband, Dave Blazier, and his grandson, Michael Tridente and his wife, Alaina. He is also survived by his great grandchildren, Brendan Blazier, Ryan and Mattingly Fahey, Easton and Beckett Tridente. At the age of 1 7, Sam enlisted in the U.S. Navy during WWII. From 1943 to 1946 he was part of a special unit -The Armed Guard- which consisted of a navy crew assigned to Merchant ships as gun and communications guards. He was a signalman 2nd class serving in the South Pacific. On June 8, 1947, he married Marietta Cappelluti, who he called his "Lovely Lady" and in 1981 moved to Manalapan, NJ from Hoboken. They lived in Manalapan until 1991 and then moved to Washington, NJ in Warren County. In 1946, Sam started a career of 40 years when he was hired by the Hoboken Post Office, as a substitute clerk. Through the years, he rose through various supervisory positions, including assistant postmaster until he was appointed Postmaster on April 23, 1977. Prior to his appointment, the position of Postmaster was a political one. In 1970, this was changed and the appointments were made from the postal ranks. Sam had the distinction of being the first Postmaster in the United States to be promoted from the ranks. He remained Postmaster until he retired on May 30, 1986. He was very involved in community affairs. He was a member of the Hoboken Knights of Columbus and was also President of the Hoboken Kiwanis Club. The "ultimate" caregiver for his loving wife, Sam and Marietta celebrated their 75th wedding anniversary on June 8th in their current residence in Paragon Village in Hackettstown, NJ. Although he did not reach his one wish of living to be 100 years old, Sam touched the lives of many. The 97 years he lived were a blessing and inspiration to all he knew and loved! Sam will be waked at Warren Hills Memorial Home, 234 W. Washington Ave., Washington NJ 07882 on Wednesday, October 12, 2022 from 2:00 to 4:00 PM and 7:00 to 9:00 PM. A Mass of Christion Burial will be held on Thursday, October 13, 2022 at 10:30 AM at St. Theodore Roman Catholic Church, 855 NJ-57, Port Murray, NJ 07865. Entombment will immediately follow at Immaculate Conception Cemetery and Mausoleum, 316 Old Allerton Road, Annandale, NJ 08801. In lieu of flowers you can make a donation to either St Theodore Roman Catholic Church in Mansfield Township, NJ (Warren County). https://www.sttheodorenj.org in his name or to Dementia Society of America https://www.dementiasociety.org Funeral arrangements have been entrusted to Warren Hills Memorial Home. To send an Online Condolence please visit www.warrenhillsmemorialhome.com.
Who We Are:

We remain in the forefront of innovation that provides real comfort and practical solutions at a most difficult time. Our funeral home makes great efforts to assist you with all your personalization needs. Trust us to guide you.

Location:

234 W. Washington Avenue Washington, New Jersey 07882
Richard L. Maguire, III
Owner/Manager
NJ License #5234
Quick Links: