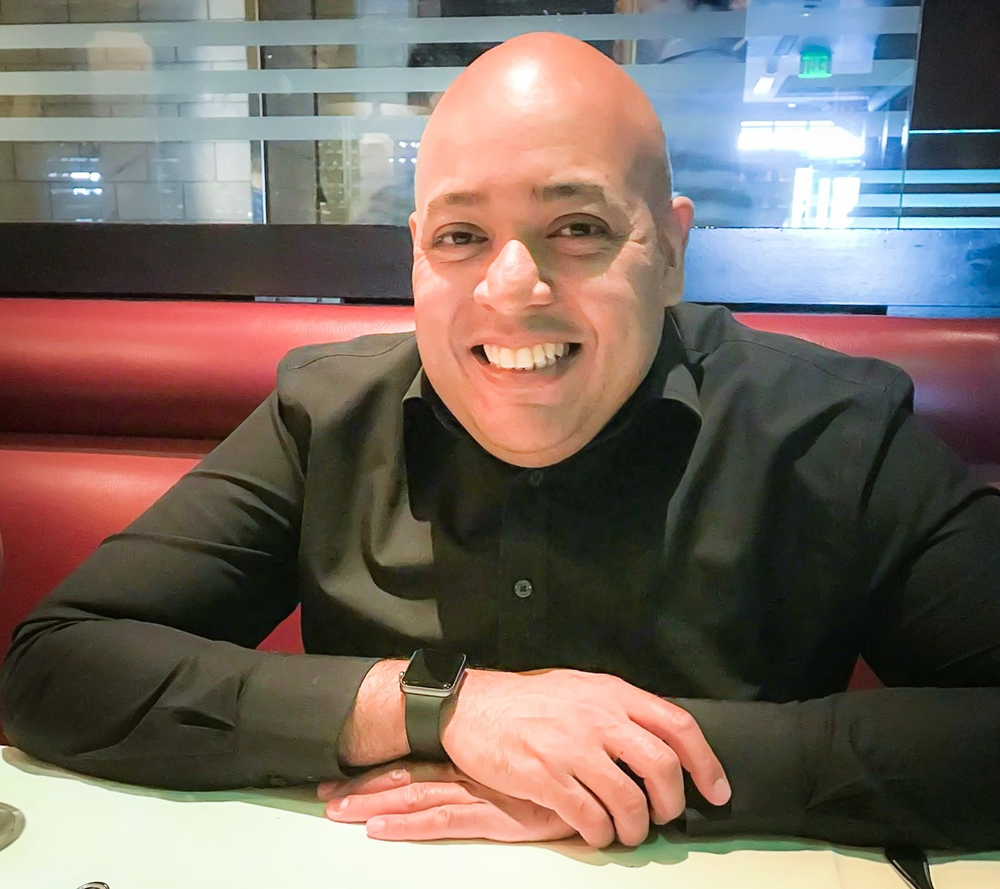 Obituary of Manny Bravo
In Remembrance of Manny "Puchie" Bravo July 9, 1974 – June 18, 2021 Manny "Puchie" Bravo, beloved companion, father, friend, foodie, adventurer, culprit of an infectious smile, and fashionable dresser passed away suddenly at home, the evening of June 18th, 2021 at the age of 46. Manny was born in Manhattan, N.Y., to Eva Vega and the late Manuel Bravo. With a resilient love of family, Manny would find himself spending summers every year in Puerto Rico with his family there- Playing with his cousins, eating mangos under his Aunts' mango tree, and sharing witty laughs with everyone he encountered. Transitioning to the Bronx, NY in later adolescence, divine intervention would intercept the paths of Manny's life with those that would shape him forever. Listening to Manny's accounts of their adventures during his teenage years in the early 90's was always quite comical. He enjoyed sharing tales of his younger sister Ivelesse sneaking into his room to wear her big brother's shirts to school... Reliving memories of his long-time neighbor and friend Jessica, who's mother Elba (deceased), was best-friends with his mother...Laughing to accounts of fun-filled nights with his older brother Ralph "Fafy"...Describing moments of mishaps and close calls with his very best-friend Moises, in what was supposed to be a traditional night on the town...Each individual and memory, making life wonderful and worthwhile. Graduating from John F. Kennedy High School, Bronx, NY in 1992, Manny was determined to make ripples and waves in his life. He would go on to complete his education in Business Policy and Marketing at Monroe College, NY. Amongst the many wonderful organizations that he had the pleasure to be a part of, such as the American Museum of Natural History and Skadden LLP, he would shine the most as a Conflict Specialist, at Sullivan & Cromwell LLP, working for them for over 13 years. Yet, the most magic happened for Manny outside of the workplace. Leaping into the next big thrill, Manny loved taking risks and trying new things such as skydiving, quad riding, scuba diving, hiking and biking on new local trails. With an entire world set before him with more action, Manny impressively traveled to numerous places in the Caribbean, Europe, and Central America. Amongst his favorite locations was Turks and Caicos. When he couldn't go to the action, he brought the action home to him. He loved cinematic franchises such as the "Lord of the Rings," "Harry Potter," "The Matrix," "Star Wars," Marvel films, and many more. He enjoyed televised throwbacks such as "The Fresh Prince of Bel-Air," "Criminal Minds," "The Big Bang Theory,"…and yes! He even enjoyed watching "Friends''. Amidst his avid and prolific collection of Retro Air Jordan sneakers, Manny loved to dress sharp! He always believed in putting his best foot forward and paying attention to the details- That's where it mattered most. It was never foreign to expect that if he was going anywhere, he was going in something clean, pressed, well coordinated, and with a nice pair of shades and shoes. Anyone who knew him can attest to the two-hours it took him to iron, but his pressing skills exceeded the expertise of your common local cleaners- Hands down! Yet, out of all of his interests and hobbies, his biggest interest and love later on in life was to spend time with his family- His love Joanne Sylvestre, their infant son Hunter, and his step-children, Leandra and Caiden. As GOD would have it, Manny would meet Joanne in passing as friends, only to reunite them later on in love. Their quirkiness and specific attention towards detail would prove suitable in their relationship as they complimented each other yet continued to grow individually as well. Manny was never shy to express just how much he loved her. Random calls of "Have I told you that I love you?" would be followed by expressions of just how much he indeed loved her. Manny leaves a tremendous legacy of determination, resilience, strength, courage and endurance to his loving companion Joanne, his 2 year-old son, Hunter; his stepdaughter Leandra, his step-son Caiden, his mother, Eva Vega of Puerto Rico and sister Ivelesse Rivera (Juan) of Puerto Rico. He also leaves to mourn his death, his aunt, uncle, cousins, his niece Valeria and nephew Sebastian, and a host of friends. He will be sadly missed by all who knew him. Manny was preceded in death by his two brothers Richard Diaz and Ralph "Fafy" Garcia. Family and friends may pay their respects on Tuesday June 29, 2021 from 2-4 & 7-9 PM at Warren Hills Memorial Home, 234 W. Washington Avenue, Washington, NJ 07882. Funeral services will be celebrated on Wednesday June 30, 2021 at 12:00 noon at Somerset Hills Memorial Park, 95 Mt. Airy Road, Basking Ridge, NJ 07920.
Share Your Memory of
Manny
Who We Are:

We remain in the forefront of innovation that provides real comfort and practical solutions at a most difficult time. Our funeral home makes great efforts to assist you with all your personalization needs. Trust us to guide you.

Location:

234 W. Washington Avenue Washington, New Jersey 07882
Richard L. Maguire, III
Owner/Manager
NJ License #5234
Quick Links: