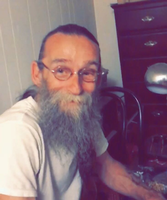 Christopher R Murphy
Christopher R. Murphy, 61, of Belvidere, NJ passed away suddenly on August 3, 2019 due to injuries sustained in an automobile accident.
Christopher was born on June 29, 1958 in Elizabeth, NJ to the late Francis J. Murphy and Dorothy Murphy, nee Coughlin.
He attended St. Mary's of the Assumption High School in Elizabeth, NJ. He then enlisted in the United States Navy. Christopher was self-employed as a contractor. He lived to work and worked to live. He enjoyed shopping with his daughter Angela, and adored all of his children and grandchildren. He had a great impact on everyone he met and will be sadly missed.
In addition to his mother Dorothy, he is survived by his companion, Karen Rusin, and his loving children; Daughters, Kristin Murphy, Angela Murphy and Kayla Rusin; Sons, Shane Murphy, Thomas Rusin and Christopher Cassidy; a Brother, Francis Murphy; Sisters Denise Veguez, Colleen Cetrulo, Joyce DeRosa, Nora Murphy, and Maureen Patti. He also leaves behind his grandchildren, Teddy, Kaenin, Wyott, Lylah, Jayla, Julia and his future grandchild Aurora who is due in December.
Family and friends may pay their respects on Saturday August 10, 2019 at the Warren Hills Memorial Home. 234 W. Washington Ave. Washington NJ 07882 from 2:00 -3:30 PM A Memorial service celebrating Chris's life will be held at 3:30 PM at the funeral home.
In lieu of flowers donations may be made in Chris's name to: Shane Murphy C/O Warren Hills Memorial Home to cover Funeral Costs.
Funeral arrangements have been entrusted to the Warren Hills Memorial Home, 234 W. Washington Ave., Washington, NJ 07882