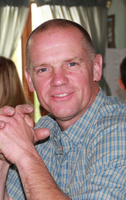 John Stevenson
John T. Stevenson, 53, of Washington Township, NJ passed away unexpectedly on April 6, 2019.
John was born on October 10, 1965 in Yonkers, NY to the late John A Stevenson and Elizabeth Chase.
John graduated from Hackensack high school class of 1983. He worked as an auto mechanic for the US Postal Service in South Hackensack, NJ for more than 30 years. John married the love of his life Lorraine in 1991. John enjoyed working in his yard and skiing. John was the type of person who you could call at any time, for any reason and he would drop everything to help a friend. John was a loving and caring husband and father who cherished time spent with his family, especially his children.
In addition to his loving wife of 27 years Lorraine John is survived his sons, Tyler Nicolas Stevenson and Ryan Patrick Stevenson.
Family and friends may pay their respects on Saturday April 13 from 12-1:30pm at the Warren Hills Memorial Home. 234 W. Washington Ave. Washington, NJ 07882. Memorial Service will be held immediatley following visitation at 1:30 PM in the funeral home. Funeral arrangements have been entrusted to the Warren Hills Memorial Home. To send an on-line condolence please visit www.warrenhillsmemorialhome.com