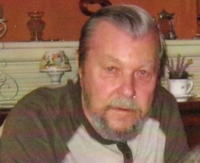 Georgi K Chobanov
WASHINGTON- Georgi K. Chobanov, 84, entered into eternal life on Saturday, February 9, 2019. He was born on August 14, 1934 to the late Anna and Kotsi Chobanov in Russe, Bulgaria.
Georgi was an Electrical Specialist for Dunarit, a military factory, in Russe, Bulgaria and he bravely served in the Bulgarian army. He came to the United States in 2004. In his spare time, he enjoyed the outdoors especially going fishing. Georgi was a man of integrity and honesty. He was appreciative of what the United States offered him and his family. The determined principles that Georgi portrayed will never be forgotten. He was a role model to all who knew him especially his granddaughter. Georgi will be remembered as a charming, handsome and energetic man.
Georgi is survived by his beloved wife Ivanka P. Chobanov, loving daughter Anna G. Massimo and cherished granddaughter Andrea N. Massimo. He is predeceased by his parents, a brother Constantin Chobanov and a son-in-law Nicholas Massimo.
Viewing will be Thursday, February 14, 2019 from 6:00pm to 9:00pm at the funeral home. Funeral services will be on Friday, February 15, 2019 beginning with a viewing from 9:30am to 10:30am at the funeral home followed by a religious service 11:00am at the First Presbyterian Church of Washington 40 E. Church Street, Washington, NJ. Burial will take place at St. Teresa of Avila Cemetery 136 Passaic Avenue, Summit, NJ.