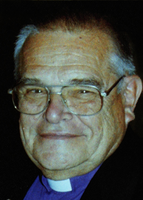 Bruce Albert Vitale
Bruce A. Vitale, 88, formerly of Washington, NJ passed away peacefully on January 5, 2019 in Lopatcong NJ.
Bruce was born on October 21, 1930 in Hackensack, NJ to the late Albert and Elizabeth Vitale.
Bruce started his journey as a young man administering immunization shots to US military soldiers before deployment. Before being involved in the automotive industry; he spent time as a security guard for Circus Circus Hotel & Casino in Las Vegas, Nevada. Bruce served the Lord as a traveling minister for over 20 years. He preached the Gospel at nursing homes across the area before retiring in 2012. Bruce was a member of the Masonic Lodge. He enjoyed working on old cars, spending time outdoors, and exercising his artistic ability through drawing. Bruce cherished time spent with his family, especially his grandchildren.
Bruce is survived by his loving children, Debbie Kidd, Cathy Loch and Sue Knutson. Grandchildren, Chrissy Kidd, Rickie Kid, Alex Davis, Caitlyn Loch, Nathaniel Loch, Tim Todd, Brianna Todd and Anthony Johnston and 15 great Grandchildren. Bruce was preceded in death by his son, Brucie Vitale.
In lieu of flowers, donations may be made in Bruce's name to Faith Discovery Church. 33 Brass Castle Rd. Washington, NJ 07882.
A Memorial service will be celebrated on Saturday January 19th at 2pm at the Faith Discovery Church 33 Brass Castle Rd. Washington, NJ 07882. Funeral arrangements have been entrusted to the Warren Hills Memorial Home. To send an on-line condolence please visit www.warrenhillsmemorialhome.com