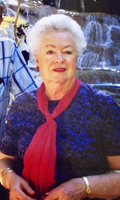 Olga Abrams
Olga Abrams, 101, passed away peacefully on January 7, 2019, at The Chelsea at Brookfield, in Belvidere, NJ.
Olga was born on March 2, 1917, in Brooklyn, NY to the late Maxim Kostukewich and the late Stanislava Zaleskie.
Olga enjoyed art, music, singing, sketching, reading and walking. She was an avid gardener and loved her flowers.
Olga is survived by her loving children, Laura J. Buro and her husband Alan J. Kares, Diane Holtzer and her husband Glen, and Nelson J. Abrams and his wife Joanne. Olga is also survived by her four cherished grandchildren, Nicholas F. Buro, Diana M. Buro, Nelson J. Abrams, Chelsea V. Abrams, and a sister, Theresa Lenchinsky. Olga was preceded in death by her husband, Nelson J. Abrams, son-in-law, Nicholas C. Buro, and sisters Mary Margaret Nicosia, Bernadette Lillian Bogard, and Nina Kostukewich.
Family and friends may pay their respects on Friday, on January 11, 2019 from 2-4 PM and 6-8 PM at the Warren Hills Memorial Home. 234 W. Washington Ave. Washington, NJ 07882.
In lieu of flowers, donations may be made in Olga's name to The National Multiple Sclerosis Society, 375 Kings Highway, Cherry Hill, NJ 08034, The National Marfan Foundation, 22 Manhasset Ave., Port Washington, NY 11050, The American Cancer Society, 7 Ridgedale Ave., Cedar Knolls, NJ 07927, or the National Parkinson Foundation, 10 Union Square East, #5L, New York, NY 10003