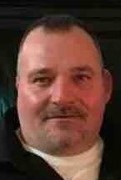 Daniel C Cole
Daniel Cole, 49, passed away peacefully on January 3, 2019 at home with his loving family by his side.
Daniel was born on November 24, 1969, in Easton, Pennsylvania to Marvin and Mary Jane Cole.
Daniel graduated from Warren Hills High School Class of 1989. He was employed for many years as a truck driver for All Image Company. He loved the outdoors and enjoyed spending time snow-mobiling, camping and 4-wheeling. He was an animal lover, especially his dog Bentley. Daniel never let his disabilities interfere with his passion for life and living life to the fullest.
In addition to his loving parents, Daniel is survived by his caring brother Marvin Cole III. He also leaves behind his devoted fiancé Cathy Watson, his step-daughter Samantha and step-sons, Richie and Brett.
Family and friends may pay their respects on Thursday, January 10, 2019 from 6-8 PM at the Warren Hills Memorial Home, 234 W. Washington Ave., Washington, NJ 07882. Memorial service celebrating Daniel's life will immediately follow the visitation at 8:00 PM in the funeral home.