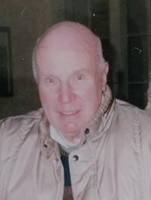 William P Supple
William P. Supple Jr, 87, of Washington, NJ passed away peacefully at home on December 29, 2018 surrounded by his loving family.
William was born on December 18, 1931 in Newark, NJ to the late Thecla and William Supple, Sr. William graduated from St. Mary's high school in Rutherford, NJ, class of 1950. He married the love of his life, Mary Walsh, in 1957. William was employed as a transportation analyst for A&P for 40 years. He was a parishioner of St. Joseph's Church in Lincoln Park, NJ for many years before moving to Washington and joining St. Theodore Catholic Church in Port Murray, NJ. He enjoyed family vacations at the Outer Banks, Gloucester, Massachusetts, and Winter Harbor, Maine. He loved fishing, boating, football, and playing penny slots at the casino. He was an avid NY Giants and NY Yankees fan. He cherished time spent with his family and loved traveling with his wife, Mary.
In addition to his loving wife of 61 years, William is survived by a son, William P. Supple III and his wife Charlotte; daughters, Barbara Supple and her husband Thomas Zins, and Nancy Salus and her husband Paul; his brother, Richard Supple and his sister, Dorothy Lehmkuhl. William is survived by his nine cherished grandchildren, Chris, Josh, Liam, Breezy, Julianna, Ryan, Matthew, Dan, and Rainey. William is also survived by sisters-in law Anne, Ginny, Lois, and Virginia, his brother-in-law, Jay, and his seventeen beloved nieces and nephews. William was preceded in death by his dear nephew Michael Supple. William will forever be remembered as a faith-filled man who was a devoted husband, and a loving father and grandfather. William was loved and cherished by family and friends. William's gentle spirit, wonderful sense of humor, and easygoing nature will be dearly missed.
Family and friends may pay their respects on Thursday January 3, 2019 from 4-8 PM at the Warren Hills Memorial Home. 234 W. Washington Ave. Washington, NJ 07882. A Mass of Christian Burial will be celebrated on Friday January 4, 2019 at 11:00 AM at St. Theodore Catholic Church. 855 State Hwy Route 57. Port Murray, NJ 07865. Interment will be private.
In lieu of flowers, donations may be made in William's name to St. Jude Children's Research Hospital, 501 St. Jude Place, Memphis, TN 38105-1942. Funeral arrangements have been entrusted to the Warren Hills Memorial Home. To send an online condolence please visit www.warrenhillsmemorialhome.com