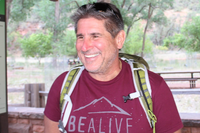 Kenneth Charles "Ken" Lang
Kenneth "Ken" Charles Lang, 58, of Washington Twp., NJ passed away peacefully on December 8, 2018 at Hunterdon Medical Center in Raritan, NJ.
Ken was born on May 22, 1960 in Newark, NJ to Charles and Margaret Lang. Ken graduated from Fairleigh Dickinson University in 1984 with a Master's degree in accounting. He married the love of his life Laura in 1994. That same year he accepted a position at an accounting firm now known as Withum Smith & Brown where he later became a partner in the firm. Ken always furthering his education became tax law certified in four states. Formally of Helmetta, NJ, he and Laura moved to Washington in 1996 to raise their family. Ken was a great man with a big heart who always put others before himself, earning the nick-name Iron Man. He was a loving son, checking on his parents weekly and helping them with everything from appointments to gardening. He loved gardening, was a wicked chef and made the most amazing meals with the produce he grew. He loved cars and recently purchased an old truck to rebuild with his son. Ken enjoyed motorcycles as well and riding his Harley was a favorite past-time next to hiking. He loved the outdoors and the many hiking trips he and his family went on. He especially loved his hikes with his faithful companion Montana. Ken's dream was to one day retire to Montana. He was a very funny man with a contagious laugh. Above all his family was his world. He will be sadly missed by all.
In addition to his loving parents, Charles and Margaret Lang, he is survived by his devoted wife of 24 years, Laura, his treasured children, Matthew and Gianna, two brothers, Chuck and Larry Lang, His Mother and Father in-law, Patty & Richard Alderiso, sister in-law Cindy Alderiso, and brother in-law Richard Alderiso.
Family and friends may pay their respects on Thursday, December 13, 2018 from 4-8 PM at the Warren Hills Memorial Home, 234 W. Washington Ave., Washington, NJ 07882. A Memorial Mass will be held on Friday, December 14, 2018 at 11:00 AM at St. Anne's Roman Catholic Church, 6 Church St. Hampton, NJ 08827
In lieu of flowers, donations may be made in Ken's name to Juvenile Diabetes, 26 Broadway, 14th Floor, New York, NY 10004
Funeral arrangements have been entrusted to Warren Hills Memorial Home, 234 W. Washington Ave., Washington, NJ 07882.