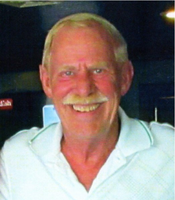 Larry N Siebens
Larry N. Siebens, 72, of Asbury, NJ passed away peacefully on December 7, 2018 at home with his loving family by his side.
Larry was born on September 1, 1946 in Montclair, NJ to the late Norman and Ella Siebens. He was employed as a Design Engineer for Thomas & Betts in Hackettstown, NJ prior to his retirement in 2014. Larry proudly served his country in the United State Army. He married his wife Dianne in 1984 and recently celebrated 34 years of marriage. Larry was an avid golfer. He golfed at many different courses and always looked forward to his yearly golf outings to Myrtle Beach with friends. He enjoyed bowling and wood-working. Larry designed and built the home he and Dianne reside in. He was a Pittsburgh Steelers fan. Above all he loved his family and spending time with them. He will be sadly missed.
He is survived by his devoted wife Dianne Siebens, his loving children, son Larry T. Siebens, daughter Dawn Chloros and her husband Jim, step-son, Shawn Harrow. Seven cherished grandchildren, Kyle, Nicolle, Claire, Kevin, Connor, Natalie and Katie. His caring sister, Norell Bates and his niece Veronica Carney. In addition to his parents, he is preceded in death by a step-son Craig Harrow.
In abiding with Larry's wishes, services will be held privately.
Memorial donations may be made in Larry's name to the American Cancer Society, 6725 Lyons St, PO Box 7, East Syracuse, NY 13057
Funeral arrangements have been entrusted to Warren Hills Memorial Home, 234 W. Washington Ave., Washington, NJ 07882.