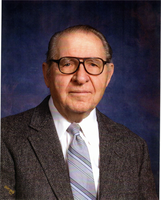 Anthony B Columbro
Anthony B. Columbro ("Tony"). age 95, died June 7, 2018 at the Hunterdon Care Center in Flemington, NJ.
Tony was the beloved husband of Gloria Nicholas (deceased), Mary Corrigan (deceased), father of daughters Nancy Jakubowski (Steve) of Washington, NJ, and Laura Columbro of Washington, NJ, grandfather to Laurel Jakubowski, M.D. (Cameron Hudson) of Mountain View, CA and Brian Jakubowski of Albany, NY.
Tony was preceded in death by his parents, Nicola and Nancy (DiNicola) Columbro, and siblings Rose Cira (Carl, deceased), Vincent, Lucille, Charles (Erline, deceased), and Patrick (Theresa, deceased), and Sister Madeline Mary, SND (deceased). He was the cherished brother of Elaine Chimo (Leo deceased), and Mary Rodgers (Daniel, deceased), dear uncle and great-uncle.
Born January 23, 1923 in Northfield, Ohio, Tony was a life-long Ohio resident, known for his hard work and dedication to his profession, keen mathematical mind, and his kindness and generosity to his family and friends. A man of many talents and accomplishments, Tony participated in numerous social, political, and church activities. He enjoyed spending time with his family, appreciated all music genres, loved playing the guitar and quiet moments reading classical literature and poetry.
Arrangements by: Warren Hills Memorial Home.
Memorial contributions gratefully accepted to: Immaculata Music Department, 240 Mountain View Road, Somerville, NJ or The Sisters of Notre Dame, 13000 Auburn Road, Cleveland, OH.