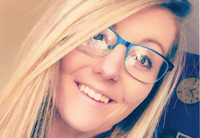 Sarah Elizabeth Daken
Sarah Elizabeth Daken, 23, of Franklin Township, NJ passed away suddenly at home on May 23, 2018.
Sarah was born on July 17, 1994 in Summit, NJ to Duane and Elizabeth Daken and was of the Catholic faith.

She was a graduate of Warren Hills Regional High School Class of 2012, where she won Senior Superlative "Biggest Risk Taker". She was employed as a Manager at a local pizza establishment in Stewartsville. She enjoyed spending time outdoors. She loved social media, particularly snap chat. She loved life and was always smiling. She cherished time spent with her family, especially her precious daughter Teeghan. She will be sadly missed by all who knew her.

She is survived by her 8 month old daughter Teeghan Marie Shay, Logan Shay, Teeghan's father; her loving parents, Duane and Elizabeth Daken; two brothers, Bryan and Shawn Daken, sister, Hannah Daken, many Aunts, Uncles and Cousins. Her paternal grandparents, Janice and Bob Vincent and Ed and Barbara Daken. She is preceded in death by her maternal grandparents Howard and Rita Meyer.

Family and friends may pay their respects on Thursday, May 31, 2018 from 4-8:00 PM at Warren Hills Memorial Home, 234 West Washington Ave., Washington, NJ. A Memorial Mass will be held on Saturday, June 2, 2018 at 10:00 AM at the St Vincent De Paul Roman Catholic Church, 250 Bebout Avenue, Stirling, NJ 07980. Internment will immediately follow the Mass at St. Mary's Stony Hill Cemetery in Watchung, NJ.

In lieu of flowers donations can be made to Duane or Elizabeth Daken for Teeghan's college fund c/o the funeral home, 234 W. Washington Ave., Washington, NJ 07882. Funeral Arrangements have been entrusted to the Warren Hills Memorial Home.