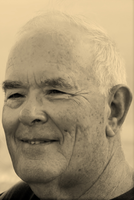 William VanZandt
William (Bill) Van Zandt, 78, of the Brookfield section of Belvidere, passed away peacefully on September 1, 2017 at Warren Haven Nursing home in the presence of his family.
Born on March 20, 1939 in Rahway, N.J. to the late William D. and Dorothy (Lucas) Van Zandt, Bill spent several early years in Burlington, N.J. then moved to Woodbridge with his family following his father's return from World War II.
He was a graduate of Woodbridge High School Class of 1957, and Rutgers University?Newark School of Business and was employed as a sales representative for Nabisco Company for 38 years. Bill proudly served in the U.S. Army Reserve 78th Lightning Division for over 20 years, retiring with the rank of Command Sergeant Major in 1983. A resident of Woodbridge and Metuchen, N.J. for most of his life, he and wife Barbara retired to Warren County in the year 2000.
Bill was an avid outdoorsman who enjoyed any type of fishing, bird-watching and hunting. He was a past board member of Trout Unlimited of Central N.J., and a regular volunteer at the Pequest Fish Hatchery and Environmental Resource Center. He especially enjoyed teaching and sharing his knowledge of fishing to groups of children and teenagers who visited the center. He also loved history and travel, and with Barbara, visited England several times, Scotland, Germany, Italy, Alaska (where he caught a wild salmon, a lifelong goal), and the Western U.S. He enjoyed socializing and spending time with his family and especially grandchildren, and many friends.
Bill is survived by his wife of 53 years, Barbara, who provided loving care during his last several years. He is also survived by his son William and his wife Gabrielle of Titusville, N.J., and their children Max and Emma; Son Nicholas and his wife Jennifer of St. Augustine, FL, and their children Nicholas and Alexander. He was preceded in death by twin brother Dennis Van Zandt and his wife Ingeborg Van Zandt.
Family and friends may pay their respects on Sunday September 17, 2017 from 1-3 PM at Warren Hills Memorial Home in Washington, N.J. A Memorial service celebrating Bill's life will be held at immediately following at 3:00 PM. To send an on-line condolence please visit www.warrenhillsmemorialh ome.com
In lieu of flowers, donations may be made in Bill's name to Alzheimer's New Jersey, 400 Morris Avenue, Suite 251, Denville, NJ 07834, alznj.org OR New Jersey Audubon, Bernardsville, N.J. at www.njaudubon.org