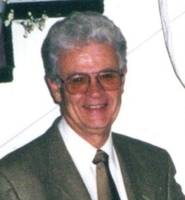 Raymond P Romanczuk
Raymond P. Romanczuk, 80, of the Brookfield community in White Township, NJ, passed away peacefully on March 30, 2018 at St. Luke's Warren Hospital with his wife and family at his bedside.
He was born on November 20, 1937 in Dupont, PA, to the late Peter and Lucille Romanczuk.
Raymond and his wife, Genevieve, were formerly of Hillsborough, NJ. He attended Franciscan Brothers Seminary in Pulaski, Wisconsin. Ray proudly served in the US Army during the Vietnam War. He worked for Automatic Switch Company in Florham Park, NJ, until his retirement in 2000. He was a parishioner of St. Patrick Roman Catholic Church in Belvidere, NJ. He was a 3rd Degree member of the Knights of Columbus Council 514. He enjoyed creative coloring books for adults, singing, playing his guitars and playing golf.
He is survived by his loving wife of 33 years, Genevieve; her son, Peter Lazzarotti and his wife Emese, daughter Valerie Zur and son Andrew Lazzarotti. Grandchildren, Paul Lazzarotti and his wife Amanda, Keith Zur and his fiancee Tiffany, Scott Zur and his wife Jessica, Dorothy Lazzarotti and her husband Christopher, and Renee LoCascio and her husband Angelo. Great grandchildren, Matthew, Sophia, Corinne, Logan, Liliana, Walter and Jane. Brother, Theodore Romanko and his wife Joan; nieces Marion and her husband Doug, Luann and her husband Peter, Jane and her fiance Larry.
Family and friends may pay their respects on Monday April 2, 2018 from 4-7 PM at the Warren Hills Memorial Home, 234 W. Washington Ave., Washington, NJ 07882 (908-689-0119). A Mass of Christian Burial will be celebrated on Tuesday April 3, 2018 at 10:00 AM at St. Patrick Roman Catholic Church, 327 Greenwich St., Belvidere, NJ 07823 (908-475-2559). Interment will follow at Belvidere Cemetery.
In lieu of flowers, donations may be made in Raymond's name to St. Patrick Roman Catholic Church., 327 Greenwich St., Belvidere, NJ 07823.
Funeral arrangements have been entrusted to the Warren Hills Memorial Home. To send an on-line condolence please visit www.warrenhillsmemorialhome.com