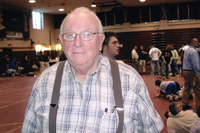 George H Slack
George H. Slack, 88, of Washington, NJ, passed away peacefully on Wednesday, March 14, 2018, at his home with loved ones by his side.
George was born in Union, NJ on January 26, 1930 to the late Theodore and Elizabeth Slack.
He graduated from Union High School in 1947 and his family then moved to Hope and operated a dairy farm. He served his country honorably in the US Army during the Korean War. Upon returning home he married the love of his life, Barbara, in 1952. "Willie" as he liked to call her, knew him best when she would say, "He means well!"
George worked as a telephone repairman for NJ Bell in New Village, NJ, retiring in 1985. He enjoyed spending time with his family. Along with watching his grandchildren participate in many sporting events, George also enjoyed watching the New York Giants. He went on many hunting adventures over the years and spent many hours fishing on the Pequest River, or boating on the Delaware. George also had a passion for photography, especially all the beautiful nature scenes he encountered. He was a past fire chief for the Washington Township Fire Department. George was a lifelong member of the NRA, a member of the Rocky Mountain Elk Foundation and a member of the Trout UnLimited, Forks of the Delaware Chapter. George was one of the original members/builders of the SHUD-A-GOT-EM ROD AND GUN CLUB in Potter County, PA.
He is survived by his two daughters Susan Lackey of Washington, Michelle Dean (Warren) of East Stroudsburg, PA; his son Daniel (Pam) of Washington; his brother, Theodore Slack (Eunice); six grandchildren, Jana, Seth, Adam, Jonathan, Jordan "Josie" and Amy and seven great grandchildren. He enjoyed and sincerely appreciated the time he spent with Bev (caregiver) during the last months of his life.
He is predeceased by his loving wife Barbara, who passed away in 2013, and his brother Robert Slack.
Family and friends may pay their respects on Wednesday, March 21, 2018 from 4:00 to 7:00pm at Warren Hills Memorial Home 234 West Washington Ave., Washington, NJ 908-689-0119. Funeral services will be celebrated on Thursday, March 22, 2018, at 10:00AM at the funeral home. Burial will follow the service and be held private.
In lieu of flowers donations can be made to: Karen Ann Quinlan Hospice, 99 Sparta Avenue, Newton, NJ 07860 or Warren County Habitat for Humanity, 31 Belvidere Avenue, Washington, NJ 07882. Funeral Arrangements have been entrusted to the Warren Hills Memorial Home.