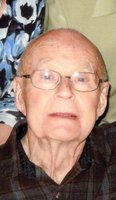 Vincent C Hoffman
Vincent C. Hoffman 92, passed away peacefully at Genesis Health Care in Phillipsburg, NJ on Tuesday, March 14, 2018. He was born on May 2, 1925 to the late Carl and Johanna Hoffman.
Vincent was born and raised in Glen Gardner before residing most of his life in Washington, NJ. He was a graduate of Hampton High School. Dedicated to his country Vincent served in the Army, receiving a Purple Heart during the Pacific Campaign. He was a member of the Gem Vac Veterans. Vincent retired 30 years ago as a maintenance manager from Ethyl-Visqueen in Flemington NJ. In his spare time he enjoyed dirt track races, car shows and he was a talented carpenter, he was better known as the "Jack of all Trades".
He is survived by his beloved wife Betty- Jane, loving children Carl and his wife Annie, Brenda Stone, Valerie Wilgocki and her husband Tom, seven cherished grandchildren and 3 great grandchildren.
Funeral Services are private.