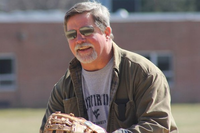 Robert A Caporin
Robert A. Caporin passed away peacefully at his home in Allentown, PA on March 13, 2018 after a battle with cancer. He is the son of Edward A. and Karlyn Sears Caporin. He was predeceased in death by his mother in 1982. He is survived by his wife Michele Caporin, son Alex Caporin, father Ed Caporin (Harriet) sister Sue Simmons (Jon), brother Rick Caporin (Heather), step brother Mark Carroll (Karen), step sister Michaele Ann Graves (John), In addition, many nieces and nephews, Victoria Winters, Faith Winters, Gianna Loveatz, and Kira Loveatz, Jes Simmons (Morgan), Rob Simmons, Mike Graves (Abby), Matt Graves, Nate Caporin, Madison Caporin, Lilah Caporin, Camden Caporin, Violet Caporin and great nephews Cameron Eggert and Crosby Graves and great niece Macy Graves.
Prior to and during his schooling, he worked for Friels Cannery and Saugaus Iron Works. He graduated with a Bachelor's degree in Forestry from West Virginia University. After college he worked for Wye Tree Experts and later started his own business, Bay Tree Service on Kent Island. After moving to Pennsylvania he was employed by Weber Foresters and then started his own business, Caporin Forestry Resources in Allentown, PA, until his death.
Rob enjoyed spending time with his family, he adored every one of his nieces and nephews, he also enjoyed hunting, fishing, fireworks, family gatherings, playing cards and attending Ravens games with his many Maryland friends.
Family and friends may pay their respects at Warren Hills Memorial Home, 234 W. Washington Avenue, Washington, NJ (908) 689-0119 on Saturday, March 17, 2018 from 1:00pm to 3:00 pm followed by a celebration of his life at 3:00pm. There will also be a memorial service on April 7th at the Ruthsburg Community Center, 105 Damonstown Road, Queen Anne, MD 21657.