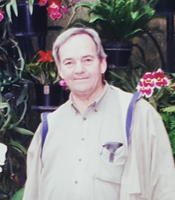 John M. Rymon
John M. Rymon, 78, a lifelong resident of Washington, NJ, passed away peacefully on Saturday, March 10, 2018 at Hunterdon Care Center in Flemington, NJ.
John was born in Washington, NJ on December 18, 1939. He was preceded in death by his father Harry, his mother Emma, his step-mother Margaret and his brother Danny. John is survived by his sisters Joyce Flynn and Wanda Campbell and their families.
John graduated from Washington High School in 1959. He worked for American Can in Washington, NJ for over 40 years until his retirement in 2004. An avid knife collector. John was one of three founders of the Northeast Cutlery Collectors Inc. He was also a member of the Eastern Pennsylvania Knife Collectors Association, Hart- Parr Oliver Collectors Association, Forks of the Delaware Historical Arms Society Inc., Crafts of NJ, Collectors of Rare and Familiar Tools Society and The Mid-American Willys Club. John's passions included family, friends, history, travel and music. A kinder man would be hard to find.
Family and friends may pay their respects at Warren Hills Memorial Home, 234 W. Washington Avenue, Washington, NJ (908) 689-0119 on Sunday, March 18, 2018 from 1:00pm to 3:00pm followed by a prayer service. Funeral services will be Monday, March 19, 2018 at 10:00am at the funeral home followed by interment at Washington Cemetery, 1 Cemetery Hill Road, Washington, NJ.
In Lieu of flowers, donations may be made to Hunterdon Hospice, 2100 Wescott Dr., Flemington, NJ 08822.