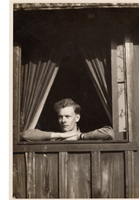 Neil Thiede
Neil E. Thiede of Upper Greenwood Lake, N.J. died peacefully on Sunday, February 25th at Warren Haven in Oxford, N.J. after a short illness.
Neil was born on May 19th, 1916 in Paterson, N.J., the son of the former Nell Van Viet and Cyril Thiede. He attended schools in Paterson and Hawthorne and also studied engineering at Cooper-Union in New York City.
He served in the Civilian Conservation Corps, working as a surveyor at what is now High Point State Park. He later served in the Army Air Corps and during World War II, was a flight engineer in the United States Navy.
Neil retired from Curtiss-Wright Aeronautical and with his wife, the former Marie Vreeland, left their home in Midland Park and moved to their little lakeside piece of heaven and built a year round home on Upper Greenwood Lake, West Milford. Neil spent many hours paddling his canoe on the lake until well into his 90's. He loved to read, both history and mysteries.
He is survived by his daughter, Patricia Nell Thiede of Washington Township. He was predeceased by his parents, his wife, the former Marie Vreeland, and his son-in-law, Howard Kron. He is also survived by nieces and nephews and dear friends, especially Jennifer Leonard and Ron and Andrea Schmidt who gave him so much loving support and enabled him to stay in his own home until his recent illness.
At Neil's request, there will be a simple graveside service at the Veteran's Section of the Fair Lawn Cemetery at 12 o'clock on Thursday, March 1, 2018.
Neil was a major supporter of women's place in society. In lieu of flowers, donations in his name to Save our Sisters, 196 Lincoln Ave, West, West Milford, NJ 07480, a shelter for disadvantaged and homeless women would be appreciated .
Funeral arrangements have been entrusted to the Warren Hills Memorial Home.
To send an on-line condolence please visit www.warrenhillsmemorialhome.com