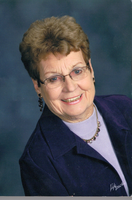 Frances M. Williams
Frances (Fran) Williams of Washington, NJ passed away on February 21 at Care-One in Bridgewater, NJ. Born in 1930 in Somerville, NJ, she was the daughter of the late Francis (Frank) and Cathern Kendall Mannon. Her husband, William (Bill) Williams preceded in her death in 1987. They were married for 38 years. Her brother, William (Bill) Mannon preceded her in death in 2016.
She was a 1947 graduate of Dunellen High School and a graduate of Berkeley Business School. In early years, she worked as a secretary for the former companies, Dixie Cup and Vikon Tile. She was a dedicated worker in her parent's hardware store (former Washington Hardware Co.) and their family farm. She and her husband operated Williams Paper Products until 1984. Fran loved playing tennis, the beach, gardening, arts and crafts, collecting stamps, and watching birds. She cherished her five granddaughters and delighted in watching them grow into young women. Fran was an active member of the United Methodist Church in Washington.
She is survived by three daughters, Judy Williams of Holland, Pa, Wendy Lime and husband Dan, of Whitehouse Station, and Beverly Smith and fiance Ralph Laltrella of Brigantine, NJ, five granddaughters, Dana Lime, Emily Beltz and husband Brian, Julia Smith, Kristen Stolpman and husband Eric, Jaclyn Smith and two great grandsons, Gabriel and Owen Stolpman whom she adored. She left behind her four cherished nieces and nephews.
Family and friends may pay their respects on Sunday February 25 from 1-3 PM & 7-9 PM at the Warren Hills Memorial Home. 234 W. Washington Ave. Washington, NJ. Funeral services will be celebrated on Monday February 26, at 11:00 AM at the funeral home. Burial will follow at Washington Cemetery.
In lieu of flowers, donations can be made to Washington Methodist Church, Common Sense for Animals in New Village, NJ or the Washington Emergency Squad. Funeral arrangements have been entrusted to the Warren Hills Memorial Home. To send an on-line condolence please visit www.warrenhillsmemorialhome.com