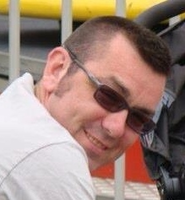 Joseph J. Belanger
Joseph J. Belanger, 45, of White Township, NJ passed away peacefully on February 13, 2018 at St. Luke's Bethlehem Hospital in PA.
Joseph was born on November 13, 1972 in Jersey City, NJ to Donald and Cheryl Belanger.
Joseph grew up in Jersey City. He graduated from St. Joseph of the Palisades High School in W. New York, NJ.. He then attended Teterboro School of Aeronautics. He then changed paths and completed his electrician's apprenticeship. He went on to be employed for over twenty years, by the Electrical Union, Local 164, IBEW in Paramus, NJ.
He married the love of his life Jaclyn in 2005. Joseph was of the Catholic faith He enjoyed video games and watching action and science fiction movies. He loved deep sea fishing with his Dad and Harley Davidson Motorcycles. Most of all, spending time with his children and family was his greatest joy.
Joseph is survived by his devoted wife Jaclyn Belanger, his loving parents, Donald and Cheryl Belanger. His cherished children, sons, Ethan Belanger and Evan Belanger, daughter, Emily Belanger. His caring sister, Lynn Marie Swift and her husband Stanley and his Maternal Grandmother, Shirley Kelly.. Also survived by his loving mother-in-law Kathie DeLucca and her husband Larry, father-in-law, Michael Barna Jr, brothers-in-law Robert and Steven Barna, sister-in-law Lindsay Galicia and her husband Manny,7 nieces and nephews and many loving aunts, uncles and cousins.
Family and friends may pay their respects on Monday, February 19, 2018 from 4-8 PM at the Warren Hills Memorial Home, 234 W. Washington Ave., Washington, NJ 07882. Funeral service will be held on Tuesday, February 20, 2018 at 11:00 AM in the funeral home.
Funeral arrangements have been entrusted to the Warren Hills Memorial Home.