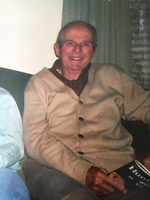 Frank "Ted" Hamler
Frank "Ted" Hamler Jr., 91, of Belvidere, NJ, and Largo, FL passed away peacefully at home on February 11, 2018 with loved ones by his side.
He was born on August 4, 1926 to the late Frank and Maud Bissell Hamler.
Frank graduated from Bernard's High School in Bernardsville, NJ class of 1944. He then served in the United States Navy during World War II. Upon returning home, Frank graduated from Lafayette College in 1950. He worked for the NJ Department of Transportation for 36 years before retiring in 1983. He was a member of the American Legion, and D.O.T.R.A. ( NJ DOT Retirees). He was also a member at Brookfield Golf Club.
He is survived by his wife, Marguarite McEwen Hamler. Sons, Chris Hamler, and his wife Bonnie, Mitchell Hamler and his wife Jane. Step-Children, Nancy Castner, Walter Gural and his wife Lori, Steven Gural and his wife Vicki, 9 grandchildren, and 7 great- grandchildren. He is predeceased by his first wife Doris Beatty Hamler.
Services will be 1:00 p.m., Sat. Feb. 17, 2018, at Somerset Hills Memorial Park, 95 Mt. Airy Rd., Basking Ridge, NJ.