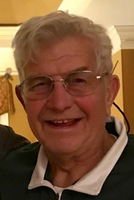 Carl W. Sigler
Carl W. Sigler, 84, a lifelong farmer from Franklin Township, NJ, passed away peacefully on January 24, 2018 with his family by his side.
Carl was born in Springtown, NJ on February 15, 1933 to the late Irvin and Jeanette Sigler.
Carl graduated from Washington high school class of 1952, He owned and operated Sigler Farm in Franklin Twp with his family. Carl served as Councilmen and Mayor of Franklin Township for more than 10 years, he also served as past president of the Franklin Twp School Board. He was a member and past president of the Warren County Grange 110 and Warren 10. He was a member of the NJ State Grange and the National Grange. He was a member of the Hackettstown Livestock Auction and the Warren County FHA. He served on the NJ Board of Agriculture. Carl was a founding member of the Warren County Community College. Carl also served on the Montana Mountain Cemetery Board and he served as past president and director of the Warren County Famers Fair for many years.
He is survived by his loving wife 63 years Barbara "Roy" Sigler. A son, Paul Sigler. 4 daughters, Colleen Hissim and her husband Edward, Jill Whitehead and her husband Matt, Janet Chembars, Ellen Rogers and her husband Scott. A brother Earl Sigler. 9 Grandchildren Jami Arbizu, Kyle Hissim, Amanda Gavin, Travis Whitehead, Cody, Jesse, & Zachary Chembars, Bryan & Jared Rogers and 12 Great Grandchildren Reece, Talon Arbizu, Morgan, Macy Hissim, Layla, Allie, James Gavin, Wyatt Whitehead, Grace, Reagan, Oliver & Peyton Chembars.
Carl was preceded in death by a son William Sigler. A sister, Jean Reimer. Brothers, Jay Alan and Dale Sigler.
Family and friends may pay their respects on Sunday January 28, 2018 from 12-3 & 6-8 PM at the Warren Hills Memorial Home. 234 W. Washington Ave. Washington, NJ 07882. Funeral services will be celebrated on Monday January 29, 2018 at 11:00 AM from the Broadway United Methodist Church. 2233 Route 57, Broadway, NJ 08808 with Pastor Gabrielle Martone officiating. Interment will follow at Montana Mountain cemetery in Harmony

In lieu of flowers, donations may be made in Carl's name to the Broadway United Methodist Church. Funeral arrangements have been entrusted to the Warren Hills Memorial Home. To send an on-line condolence please visit www.warrenhillsmemorialhome.com