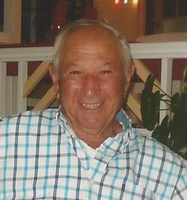 Alfred Fantuzzi
Alfred Fantuzzi, 87, of the Brookfield section of Belvidere, NJ formerly of Livingston, NJ passed away peacefully at the Karan Ann Quinlan Hospice House in Fredon, NJ on January 11, 2017 with his loving family by his side.
Al was born on February 13, 1930 in Cedar Grove, NJ to the late Carmine and Caterina Fantuzzi.
Al graduated from Bloomfield High School class of 1948. He served proudly in the US Army as a medical corpsman with a MASH 8062 unit during the Korean War. Al was employed as an Engineer then as a Business Agent for Local 68 Operating Engineers in West Caldwell, NJ, for nearly 50 years, retiring in 2000. He was a parishioner of St. Joseph Catholic Church in Washington and a member of the Knights of Columbus in Livingston, NJ. Al cherished time spent with his family, especially his grandchildren. He also enjoyed playing golf, bowling and bocce ball. After retirement, Al also enjoyed traveling with his wife.
He is survived by his wife of 17 years, Pat Fantuzzi; daughters, Catherine Fantuzzi, Alicia Danyo and her husband John, a son, Alfred Fantuzzi and his wife Lisa. Also his brother, Bert Fantuzzi. Eight stepchildren whom he considered his own; stepdaughters Karen Nelson, and her husband Rick, Doreen Pazumas and her husband Pete, Lynn Hackett and her husband Tom. Stepsons Vincent Fortunato and his wife Joann, James Fortunato and his wife, Geri, John Fortunato and his wife Christine, Frank Fortunato and his wife Stephanie and Joseph Fortunato and his wife Erin. He had 27 grandchildren (Kevin Danyo, Dana, Jillian and Brynn Fantuzzi, Deana Jenkins, Caitlyn Kocher, Andrea, Carrie and Vincent Fortunato, Lauren Nelson, Kristen Piperato, Megan Tapias, Gregory and Gianna Fortunato, John, Brandon and Heather Fortunato, Emily, Frank, Daniel and Timothy Fortunato, Taylor, Sara and Daniel Hackett, Brianna and Gabriel Fortunato and Brandon Peters) and 7 great-grandchildren (Richie Greenleaf, Gavin Reed, Adilynn Imes, Evelynn Kocher, Brielle Davis, Geo and Jett Tapias). Al was preceded in death by his first wife, Pauline Kenney, in 1996, a brother Pasquale, sisters Jean and Kay and grandchildren Matthew Briscese and Jenna Piperato.
Family and friends may pay their respects on Monday January 15, 2018 from 3-8 PM at the Warren Hills Memorial Home located at 234 W. Washington Ave. Washington, NJ (Warren County). A Mass of Christian Burial will be celebrated on Tuesday, January 16, 2018 at 10:00 AM at St Joseph Catholic Church, located at 200 Carlton Ave. Washington, NJ. Interment will follow at Gate of Heaven Cemetery in East Hanover, NJ.
In lieu of flowers, donations may be made in Al's name to St. Jude's Children's Hospital OR Karen Ann Quinlan Hospice. Funeral arrangements have been entrusted to the Warren Hills Memorial Home. To send an on-line condolence please visit www.warrenhillsmemorialhome.com