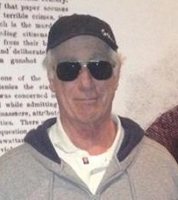 David Weller Kent
David Weller Kent, 77, died on January 2, 2018. He was born on February 7, 1940 to the late Josephine and Norman Kent.
David was a graduate of the Class of 1958 at Summit High School. He resided the past 20 years in Washington, NJ. David was a self-employed IT Professional. In his spare time, he enjoyed collecting trains and coins. David was an avid golfer, Giants, Yankee and Notre Dame fan. He also was a Civil War buff and a Black belt in Tai Chi and Kung Fu.
He is survived by a son Doug (Jeanine); daughters Denise Devitt (Dominic) and Dawn Heft (Mike); grandchildren Brandon, Conner, Riley and Camryn.
A Friends and family may pay their respects on Saturday, January 13, 2018 from 1:00pm to 4:00pm at the Warren Hills Memorial Home. 234 W. Washington Ave, Washington, NJ 07882. Memorial Service will be celebrated at 4:00pm at the funeral home.