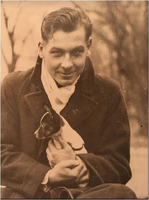 Clair Krepps
Clair Dwight Krepps, audio engineer pioneer age 99, died peacefully at home on December 15, 2017. He was born in Kiesterville Pa. November 15, 1918.
He served in the United States Navy in WWII specializing in early radar systems for naval aviation.
After the war Clair and his wife Leah settled in Bergenfield NJ where he served 2 terms on the Board of Education during the design and construction of the new Bergenfield High School.
A charter member and past governor of the Audio Engineering Society he helped establish recording standards for the record industry. An early pioneer of multi-track tape recording and mastering he worked at Capitol Records, MGM and others. Clair established Mayfair Recording Studios in NYC and with his brother Edgar designed and built the first 8-track recording console. After selling Mayfair to United Artists Clair served as Chief Engineer for Atlantic Records, and later taught at the Jon Miller School of Recording Arts in Bath, Pennsylvania.
Among the many industry awards he received including a Grammy for mastering Robert Flack's "Killing Me Softly With His Song", he was proudest of his historic Grammy for recording Nat King Cole's "Christmas Song" in 1946.
Clair's wife Leah pre-deceased him in 2010. He is survived by his daughters Marya Schwartzkopf and her husband George, Dale Badenoch and her husband Robert, three grandchildren, four great-grandchildren, and one great-great-grandchild.
Services will be private and held at the convenience of the family. Funeral arrangements have been entrusted to the Warren Hills Memorial Home. To send an on-line condolence please visit www.warrenhillsmemorialhome.com
In lieu of flowers donations may be made to the Franklin Township (Warren County) Rescue Squad, Broadway, NJ