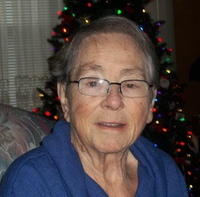 Barbara J. Lagarenne
Barbara J. Lagarenne, 85, of Washington, NJ passed away peacefully at home on December 9, 2017 with her loving family by her side.
Barbara was born on September 13, 1932 in Windsor Township, Bertie County, NC to the late Clarence Edward and Annie Susan (nee Lawrence) Phelps. She was the youngest child of six siblings.
Barbara graduated with honors from Windsor HS in May of 1950. She attended East Carolina University, in Greenville, NC, for two years, 1950-1952. During this time she met her future husband, Harold, when he was serving in the Marines and stationed at Camp Lejeune, NC. They were married in 1953 and moved to Harold's home in Brooklyn, NY, where they raised six sons. She later attended Kingsborough Community College, in Brooklyn, where she again graduated with honors, receiving an Associate in Applied Science (Nursing) degree in June, 1973, and she became a Registered Nurse (RN) in New York. Barbara worked as an RN at Kings Highway Hospital in Brooklyn, NY, and later in Southampton Hospital, in Long Island, NY until her retirement in 1995. She continued to work as a private-duty nurse until 2008.
Barbara was an avid reader all her life and enjoyed helping others and spending time with her loving grandchildren.
Barbara is survived by her six loving sons, Harold Lagarenne, Thomas Lagarenne and his wife Regina, Robert Lagarenne and his wife Nicole, James Lagarenne and his wife Nancy, William Lagarenne, and Glenn Lagarenne and his wife Patricia; her loving sister, Lillian Crisci; twelve grandchildren and nine great-grandchildren.
The love of her life, Harold Lagarenne, passed away in March, 2006. In addition to her parents and devoted husband Harold, she is predeceased by her siblings Charles Edward Phelps Jr.; Raymond Phelps; Ann Ruby Evans; Janice Lyons.
Funeral arrangements have been entrusted to the Warren Hills Memorial Home, in Washington, NJ. To send an on-line condolence please visit www.warrenhillsmemorialhome.com
In abiding with Barbara's wishes funeral services will be held privately, and her remains will be interred with those of her late husband in Calverton National Cemetery, Calverton, NY.