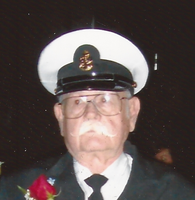 Jack R. Trimmer
Jack R. Trimmer Sr., 84, of Washington, NJ passed away peacefully at Easton Hospital on December 8, 2017.
Born on April 13, 1933 in Hampton, NJ to the late Austin and Ruth Trimmer Sr.
Jack was a graduate of Phillipsburg High School, after graduation, he proudly served his country in the United State Navy during the Korean War and the Vietnam Cuban conflict. Jack retired from the Navy after serving 22 years. He was employed at Flock Industry in Phillipsburg, Ingersoll Rand and Lipton Tea prior to his retirement in 1988. He will be remembered as a true Patriot. Jack was a life member and Past Commander of the VFW Pohatcong Post 6701, Past District Commander of VFW Warren County District 20. Life Member of Stewartsville American Legion Mercy Bishop Post 456. Senior Vice Commander of the DAV Phillipsburg Chapter 48. A life member of the Tin Can Sailors, life member of Destroyer Escort Ship Association. USS Wisconsin Association BB64. USS Benham Association DD796. The Fleet reserve Association Branch 115 and a member of the Warren County War Memorial Committee. USS Gregory Association DD802. Jack also volunteered for the Washington Boy scouts troop. He was an honorary member of the Washington Rotary Club. Jack loved to garden and share his crop. He enjoyed fishing and spending time outdoors. He will be sadly missed by all who knew him.
He is survived by his companion Edna. His loving children, Terri Trimmer and her husband Steven Heeter, Jack R. Trimmer Jr. and his wife Kathy, Brenda Terry, Patty Allen and her husband Rob, Diane Trimmer Pinitsch and her husband Joe, Jeff Trimmer and his companion Sandi Gonzalez. His grandchildren, Waymond, Jamie, Trishina, Matthew, Ricky, Debie, Donald, Jackie, Angela, Anthony, Christina, William, Michael and Tommy and 18 Great-grandchildren. 4 caring sisters, Ruth Budd, Nancy Behe, Linda Smith and Mariann Bischoff. He is preceded in death by the mother of his children Diane Wagner who passed in 2001.
Family and friends may pay their respects on Thursday, December 14, 2017 from 3-7 PM with a VFW service to be held at 7:00 PM at the Warren Hills Memorial Home, 234 W. Washington Ave., Washington, NJ 07882. Funeral service will be held Friday, December 15, 2017 at 11:00 AM in the funeral home.
In lieu of flowers, donations may be made in Jack's name to VFW Pohatcong Memorial Post 6701, 33 Springtown Rd, Washington, NJ 07882 or the Disabled American Veterans, 57A Mercer St, Phillipsburg, NJ 08865
Funeral arrangements have been entrusted to Warren Hills Memorial Home, 234 W. Washington Ave., Washington, NJ 07882. To send an online condolence please go to www.warrenhillsmemorialhome.com