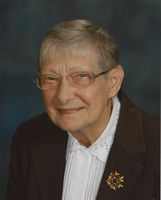 Carol Jean Thompson
Carol J. Thompson, 94, a lifelong resident of Washington, NJ passed away peacefully at Warren Haven Nursing Home on December 6, 2017.
Born on July 10, 1923 in Washington, NJ to the late David and Grace Reese.
Carol married the love of her life Clarence Thompson who passed away in 1968. She was a housewife the majority of her life, however was employed over the years at the Pants Factory in Washington, Richard's Shoe Store, the Stationary Store and in the cafeteria at Warren Hills High School where she was fondly known as the Cookie Lady. Carol was a member of the Washington United Methodist Church, the Methodist Women's Society in Washington and in Changewater, NJ. She was also a member of the Washington Woman's Club and the Red Hat Society. Carol enjoyed crafts, particularly needle point and sewing.
She is survived by her step-daughter, Fern Koch, 2 grandchildren, Charles and Richard Koch and 2 great-grandchildren, Chris and Richard. Her loving nephew, Bruce Schott and his wife Leslie, niece Darleen Schott, great niece, Milene Draper, great nephews, Brooks Schott and his wife Heather and Bart Schott and his wife Mary. Great-great nieces and nephews, Jocelyn, Lauren, Lindsey, Nicole, Reese and Chase and her many caring friends at Church.
Family and friends may pay their respects on Sunday, December 10, 2017 from 1-4 PM, at the Warren Hills Memorial Home, 234 W. Washington Ave., Washington, NJ 07882. Funeral service will immediately follow the visitation at 4:00 PM in the funeral home. Burial will be private.
In lieu of flowers, donations may be made in Carol's name to the United Methodist Church of Washington, 116 East Washington Ave, Washington, NJ 07882
Funeral arrangements have been entrusted to Warren Hills Memorial Home, 234 W. Washington Ave., Washington, NJ 07882.