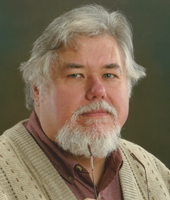 Edward Serge Pell
Ed Pell, a Washington, NJ resident, passed away on December 3, 2017, after battling myelodysplastic syndrome (MDS) for two years.
Friends are remembering Ed for his intelligence, wit and talent. But mostly, those closest to him and long-time acquaintances are mourning the loss of one of the most kind and gentle persons they know. Ed had the greatest capacity for love and tenderness, which was evident in his deeply loving marriage with his wife Diana, and his friendships with many.
Born in Baltimore, MD, Ed lived much of his life in New York, NY. He moved to New Jersey following his marriage to Diana Willhite in (1996). The couple lived in Morristown, NJ, before settling into their Washington home. Their early years there were enjoyed with their loving dog, Lucas, who passed away several years ago. Ed and Diana have been sharing their home with Maddy, also a rescue dog.
Ed attended Hunter College in New York and worked as a business journalist and marketing consultant. He was marketing director and research editor for Kitchen & Bath Business Magazine for almost two decades. As the president of his own company, ESP Ventures, Ed handled marketing and communications for leading firms and organizations. He also served as the manager of market research for the National Kitchen & Bath Association.
An accomplished creative writer, Ed authored four published children's books as well as three screenplays, one of which received a national screenplay writing award.
Ed is survived by Diana, Maddy, and his brother, William.
A remembrance and service will be held for Ed on Friday, December 8, 1 PM to 3:30 PM, at Warren Hills Memorial Home, 234 W Washington Ave, Washington, NJ 07882.