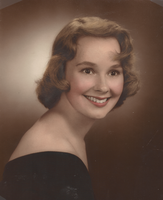 Nancy Golding
Nancy J. Golding, 81, passed away peacefully at Bridgeway Care Center, Bridgewater, NJ, on November 13, 2017. The daughter of Harry and Lenore Ford, she was a 1954 graduate of Belleville High School. She was the loving mother of five children and community leader as a Cub Scout den mother, president of the Hillside School PTA, Bridgewater, and an active drama club mother at Bridgewater East HS. Nancy worked as a waitress/hostess at several NJ restaurants. After retirement, Nancy helped lovingly raise her grandchildren, worked at Hunterdon Kindermusik as childcare assistant, volunteered as the recording secretary of the Oxford Lioness Club, and was an active member of the Oxford Red Hats Club.
Nancy is survived by her children: Kathleen Iuzzolino of Lopatcong and her children, Michael Iuzzolino and his wife Emily and their children, Dashiell and Riley, Brandon Iuzzolino and Raphael Iuzzolino; Jennifer Hickerson and her husband Jonathan of Brooksville, Florida, and her children, Devin Costar and his wife Ashley, Jesse Costar and his wife Givenchy and their daughter Athena, Colby Combs and her husband Zachary, and Kira Wilson and her husband Devin; Jeffrey Golding and his wife Stephanie of Hillsborough and their children, Patrick Golding and Hannah Golding; and her sister Janet Grace Meyer of Ohio. She is preceded in death by her sons, Frederick Golding Jr. and Ronald Golding, her son-in-law, Ronald Costar, and her siblings, Barbara Dunn, Ruth Anderson, and Harry Ford.
Family and friends may pay their respects on Friday, December 8, 2017, from 6-8 PM at the Warren Hills Memorial Home, 234 W. Washington Ave. Washington, NJ 07882 Memorial service will immediately follow the visitation at 8:00 PM in the funeral home.