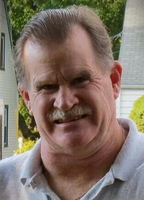 Harry E. Hubert
Harry Hubert, 63, of Washington, NJ passed away peacefully on September 25, 2017 at Morristown Hospital with his family by his side.
Born on July 31, 1954 in Somerville, NJ to the late Edson and Ethel Hubert.
Harry was a graduate of Middlesex High School. He married the love of his life Kathleen in 1982. Harry was employed as a school bus driver for First Student. He was a devote Christian and a member of the Living Word Fellowship Church in Washington. He was a Karaoke D.J for many years and would always D.J for the Hunterdon ARC dances. He had a passion for antique cars especially his 55 Chevy. He will be sadly missed by all who knew him.
In addition to his devoted wife of 34 years Kathleen, he is survived by his loving son, Ryan Hubert and caring brother, Gary Hubert and his wife Barbara Hubert. He is preceded in death by his parents, Edson and Ethel Hubert
A Memorial service celebrating Harry's life will be held on November 4, 2017 at 11:00 A.M at the Living Word Fellowship, 490 Route 57 West, Washington, NJ 07882.
In lieu of flowers, donations may be made in Harry's name to the Living Word Fellowship Church, 51 N. Lincoln Ave, Washington, NJ 07882 or the Samaritan's Purse, PO Box 3000, Boone, NC 28607 or the 700 Club at http://www1.cbn.com/700club
Funeral arrangements have been entrusted to the Warren Hills Memorial Home.