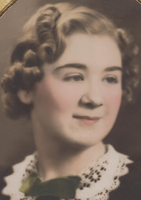 Anna Francey
Anna Herminia Francey , 100, passed away at her residence in Port St Lucie, FL, on September 21, 2017. Anna was born on January 11, 1917 in Dover NJ and moved to Washington, NJ at the age of 9 in 1926.
She graduated from Washington High School in 1936 and the following year 1937 attended and graduated from cosmetology school at the YWCA Newark School of Cosmetology. She worked as a hairdresser for many years.
She was married to Thomas W. Francey on October 16, 1946 and had four children between the years of 1949-1956, three daughters and one son, Ellen (Jack) Cassidy; Larry (Linda) Francey; Florence (Kim) Bessemer and Janet (Ronald) Everett. She had five grandchildren and five great grandchildren. Anna moved to Port St Lucie in 1988 with her husband Thomas of forty four years and lived in her own home until her death at the age of 100. She was a lifelong member of 1st Presbyterian Church in Washington, NJ and 1st Presbyterian Church in Stuart, FL, where she also served as an Elder & Deacon.
She loved to cook, bake and take care of her family, she also liked to crochet, sew and read. Later on she worked at an apple farm in Port Murray, NJ (Marlatts), Stewarts Root Beer stand in Washington, NJ and for a Geriatric Hospital (Mt Kipp) in Glen Gardener, NJ. In February of 1940 she joined Easter Star and was a member for 77 years. Anna loved to watch television, especially the game shows, soap operas, religious shows and news channel. She was interested in politics and what was going on in the world. She always voted in all of the elections. She was a staunch Republician. Anna was a huge hockey fan and loved her Florida Panthers; she never missed a game. She was honored as the oldest fan. Loved cats and had many over the years. She also loved dogs and enjoyed feeding the birds in her backyard and she had a gift for gardening. Anna loved her home and was happiest being there.
She was predeceased by her loving husband, Thomas Francey and her son, Larry Francey; parents Edna Florence Smith and Hans B. Smith and three brothers Clarence "Sonny" and Harold R. "Bud" Smith and an infant brother Henry Ellworth.
A graveside service will be held Monday, October 2, 2017 at 11:00 AM at the Union Cemetery, Mountain Avenue, Hackettstown, NJ 07840
Arrangements have been entrusted to the Warren Hills Memorial Home, 234 W. Washington Ave., Washington, NJ 07882