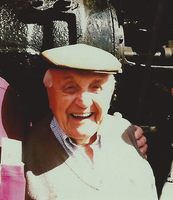 John W. Willever
John W. Willever, 89, a lifelong resident of Washington, NJ passed away at his home on August 29, 2017.
John was born on April 7. 1928 in Washington, NJ a son of the late Walter J., and Lena Sherman Willever.
He came from a family of railroaders, his grandfather was an employee of the former Delaware, Lackawanna & Western Railroad, as was his father, two uncles, his sister Patricia who pre-deceased him on February 6, 2009, and himself. When the Congress passed the Federal Highway Interstate bill during the Eisenhower Administration, it was apparent that the small 1000 mile long Lackawanna Railroad would not survive. He then began a career with the NJ Department of Transportation starting as an investigator in 1958, advancing to Right of Way Navigator, Real Estate Appraiser, and he retired on July 1, 1993, with the title of Supervisor of Right of Way.
Because of his family's long association with the DL&W Railroad, he belonged to many railroad historical societies. At the time of his death, he was treasurer of the Lackawanna Chapter of the Railway & Locomotive Historical Society. Several other societies, were the Anthracite Railroad Historical Society, and the Washington Historical Society. He was a 75 year member of the Washington United Methodist Church.
John is survived by several cousins.
Family and friends may pay their respects on Tuesday September 5, 2017 from 4-8 PM at the Warren Hills Memorial Home. 234 W. Washington Ave. Washington, NJ 07882. Funeral services will be celebrated on Wednesday September 6, 2017 at 10:00 AM at the funeral home. Interment will follow at the Musconetcong Valley Cemetery in Hampton, NJ.
In lieu of flowers donations may be made in John's name to the Washington United Methodist Church. 116 East Washington Ave. Washington, NJ 07882. Funeral arrangements have been entrusted to the Warren Hills Memorial Home.
To send an on-line condolence please visit www.warrenhillsmemorialhome.com