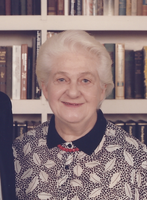 Gloria M. Schovel
Gloria Schovel, 93, a resident of the Chelsea at Brookfield passed away peacefully on August 20, 2017 at St. Luke's hospital. She was born on February 25, 1924 in St. Louis, MO to the late Charles and Anna Schulze.
Gloria was previously a resident of Saugerties, NY from 1960 to 2010. After finishing business school she worked as mapmaker during WWII, married A. Michael Schovel moved to Saugerties NY and raised a family of five children. She was one of the founding members of the League of Women Voters, served as the Board President of the Ellen Russell Finger home and was a news print editor for the Saugerties Post Star newspaper. She also wrote the "Down Earth by Gloria" column in the Post for many years. Gloria was elected to Saugerties Town Supervisor and remained an active member of the Monday club and Historical Society until moving to NJ in 2010. She was an avid reader, enjoyed cooking, crossword puzzles and volunteering her time to others as a parishioner of St. Mary of the Snow church.
Gloria is survived by her daughter-in-law Elaine Kane Schovel wife of Gloria's eldest son Michael Schovel who preceded his mother in death, daughters Madelaine Endicott, Mary Jo Harris and her husband James. Her sons Mark Schovel and his wife Gail and Matthew Schovel and his wife Patty. Gloria was blessed and loved by 13 Grandchildren and 14 Great Grandchildren. Gloria was preceded in death by her husband A. Michael Schovel.
A Mass of Christian Burial will be celebrated on Saturday, August 26, 2017 at 11:30 AM at St. Joseph Catholic Church, 200 Carlton Avenue, Washington, NJ 07882
In lieu of flowers donations may be made in Gloria's name to the Saugerties Historical Society, 119 Main Street, Saugerties, NY 12477. Funeral arrangements have been entrusted to the Warren Hills Memorial Home. To send an on-line condolence please visit www.warrenhillsmemorialhome.com