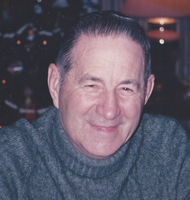 Frank Duryea
Frank Duryea, 94, of Washington, NJ passed peacefully from this earth to the presence of his Savior on August 3, 2017. Frank was born in Mountain View, NJ. His family moved to Changewater in 1931, where he spent the rest of his life. A devoted and self-sacrificing husband and father of seven, he was the owner of Frank's Gulf Service and operated a contracted trucking business for the US Postal Service. While running both businesses, he also built his home on Changewater Road. He was the last surviving founder of the Washington Township Fire Department, where he served as a fire fighter and Chief for many years.
Frank was born again at the age of 54 and spent the next 40 years serving Christ in myriad ways. He and his wife, Jane, volunteered for over 30 years at the Hagedorn geriatric center and were actively involved with the Teen Challenge drug rehabilitation program. Their home was always open, offering a place to stay for those in need, including refugees from Vietnam and Yugoslavia, single mothers, people experiencing financial difficulties, and the families of men working to overcome addiction in residential programs.
Frank was preceded by his loving wife of 71 years, Jane; his parents, James and Ida Duryea; and six siblings. He is survived by his caring sister, Ida Kendrick, his loving children, Bill Duryea and his wife Susan, Barb Rhinehart and her husband Chuck, Dennis Duryea and his wife Alison, Alan Duryea and his wife Joan, Michele Duch and her husband Brian, Tim Duryea and his wife Bonita and Daniel Duryea. He also leaves behind a total of 75 grandchildren, great grandchildren and great great-grandchildren.
His family is pleased to entrust the memorial service to their good friends at the Warren Hills Memorial Home. Family and friends may pay their respects on Monday, August 7, 2017 from 9:30 � 11:00 AM at the Faith Discovery Church, 33 Brass Castle Road, Washington, NJ 07882. Funeral service will immediately follow the visitation at 11:00 in the church. Burial will follow at Washington Cemetery, Washington, NJ 07882