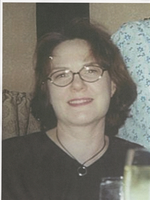 Louisa P. "Louise" Carswell
Louisa P. Carswell passed away February 9, 2017 in her home surrounded by family. She was born July 19, 1947 in Washington, NJ; daughter of the late Guiseppe and Livia (nee Marcucci) Lobello.
Louise graduated from Washington High School class of 1965. She retired from Hunterdon Developmental Center in 2005 as secretary to the CEO. She was respected by her peers and by the administration who valued her work ethic and professionalism.
She enjoyed cooking, travelling, reading and watching Jeopardy which she excelled at.
Louise is survived by a son, Kenneth, a daughter Karen, two sisters, Barbara Burns of Harmony Twp. and Laura Innocenti of Grosseto, Italy, an aunt Rose Jones, nieces, nephews and cousins and her two great nephews Benjamin and Jackson Burns. She will be greatly missed by family and friends whom she enjoyed spending time with.
A graveside service will be held 1 PM on Wednesday, February 15, 2017 at Montana Mountain Cemetery on Demeter Rd, Broadway, NJ. Funeral arrangements have been entrusted to Warren Hills Memorial Home, 234 Washington Avenue, Washington, NJ.
In lieu of flowers donations may be made in her memory to Karen Ann Quinlan Hospice, 99 Sparta Ave., Newton, NJ 07860 or Common Sense for Animals, 2420 NJ 57, Stewartsville, NJ 08886.