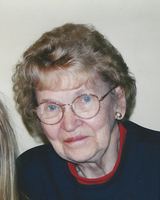 Mary M. David
Mary M. David, 94, of Belvidere, NJ passed away peacefully on January 15, 2017 at Easton Hospital in the arms of her daughter June.
Mary was born on October 28, 1922 in Amsterdam, NY to the late Gavin and Kathleen Murdoch.
Mary graduated from Wilber H. Lynch High School, Amsterdam, NY, Class of 1939. Mary then attended and graduated from Cornell University, Ithaca, NY in 1943 attaining a Masters Degree in Education and Foreign Language.
In 1950 Mary relocated from NY to NJ after marrying her devoted husband Tom, who passed away in 2009. While raising three children, Mary was employed as a Senior Technical Writer in the Logistics Department at Singer Kearfott Aerospace Co, Little Falls, NJ for 30 years before retiring in in 1986. The family then relocated to Belvidere, NJ where Mary loved spending time with family and friends. Mary was a Warren County ARC volunteer for many years and a Ladies Auxiliary member of the American Legion Post 131, Belvidere, NJ. In addition to spending time talking, laughing and being silly she enjoyed sewing, knitting, ceramics, gardening and was an "obsessed" Yankee fan. Mary was of the protestant faith.
She is survived by her loving daughter June David; granddaughter Karen David, whom she loved so much and was so proud of; and loving daughter-in-law Valerie. Survivors also include the "adopted" families Shanes, Swansons and Guintas whom she loved so much. In addition to her husband, Mary was preceded in death by her sons Glenn and Jimmy and her brothers Daniel and Robert Murdoch.
Friends and family may pay respects on Saturday January 21, 2017 from 9:00 AM - 12:00 PM at the Warren Hills Memorial Home, 234 W Washington Avenue, Washington, NJ 07882. Funeral services will be celebrated immediately following at 12:00 PM at the funeral home. Interment will be at Belvidere Cemetery.
In lieu of flowers donations may be made in Mary's name to the ARC of Warren County, 319 West Washington Avenue, Suite 2, PO BOX 389, Washington, NJ 07882. Funeral arrangements have been entrusted to the Warren Hills Memorial Home.
To send an on-line condolence please visit www.warrenhillsmemorialhome.com